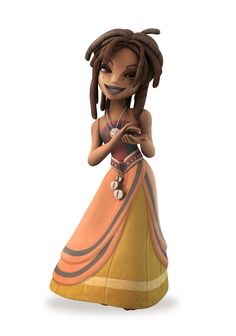 General information
Edit
Universe: Pirates of the Caribbean
Play Set: Pirates of the Caribbean
Edition(s): [1.0] [2.0] [3.0]
Voice: Julianne Buescher
Species: Human
Sex: Female
[1.0]: Pirates of the Caribbean Play Set
[2.0]: Toy Store > Disney Infinity [1.0] > Characters' toys
[3.0]: ?
[1.0]: /
[2.0]: /
[3.0]: /
Description
Edit
Tia Dalma is a voodoo witch who lives in the Pantano Bayou. She is the human shape of Calypso, and the ex-woman of Davy Jones.
She wears a long yellow and orange dress, a red and black longline bra and two pendants.
Her hair are similar to dreadlocks and she has some tasks of redness on cheeks.
Appearances
Edit
Ad blocker interference detected!
Wikia is a free-to-use site that makes money from advertising. We have a modified experience for viewers using ad blockers

Wikia is not accessible if you've made further modifications. Remove the custom ad blocker rule(s) and the page will load as expected.